THE HAIR PROJECT
9/10/2022 - 10/10/2022
The Hair Project est l'événement tendance pour les professionnels de la coiffure dans le Benelux. Toute la communauté des coiffeurs se rend tous les 2 ans à Kortrijk Xpo afin d'y découvrir les dernières tendances et nouveautés auprès de 120 exposants. The Hair Project se démarque par un concept événementiel unique combinant stands, shows trendy dans un hall de spectacle, présentations technico-professionnelles, bars chaleureux & zones 'districts'.
Dates
Dimanche 9 octobre & lundi 10 octobre 2022
Heures d'ouverture: 10h00 - 18h00
Accès
The Hair Project est exclusivement destiné aux coiffeurs professionnels et leurs personnel.
More ideas

11/12/2022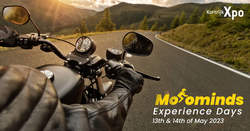 13/5/2023 - 14/5/2023