BUSWORLD VISITOR?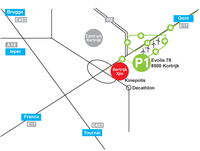 The car parks 4 - 8, around Kortrijk Xpo, are exhibitors only car parks. They are not open for visitors!
Visitors are directed to outside car parks.
The correct address for your gps is: Evolis 78 – 8500 Kortrijk (GPS coordinates: Lattitude: 50.816876 | Longitude: 3.309588)
Follow the signalisation 'Visitors Busworld P1' from the highway!
There is a free shuttle service from these visitor car parks to the main entrance of Busworld.
Visitors pay € 5,- for their parking space.
Parking & map
Are you visiting our offices (South entrance)?
Then Parking Lot 3A (only accessible via the Kennedylaan) is most suited. Take a look at the plan.
Do you have to be in the Meeting Center (North entrance)?
Then it is best to park your car in Parking Lot 6 (accessible via the Doorniksesteenweg)
For well-attended general-interest fairs extra parking facilities will be arranged. Please always follow the directions.

For disabled people we have parking spaces in both Parking Lot 3A and 6.
Rates:
on days other than fair days €2
on public fair days €4
on professional trade fair days €5
Validate your Ticket:
Together with Kinepolis, Kortrijk Xpo manages the car-parks P2 to P7.
These car-parks are closest to the Xpo South and Xpo North entrances. When you enter the car-parks, you do not need to take a ticket.
NEW! You can pay with your bank card / credit card at the barriers when you leave the car-park or you can buy an exit ticket at the various vending machines on campus.
Attention: The P1 Park+ Ride car-park- is operated by Parko agb.
If you would like to park on P1, when our car-parks are full, you will also have to pay for your parking ticket on P1. The machine is located on the bridge at the passage-way to cross the road.